For product and order inquiries, please email shop@certifiedcalm.com
Items sold at certifiedcalm.com can be returned for a refund or exchange up to 7 days from the order receipt date.
Certified Calm guarantees every product with a limited warranty against manufacturer defects.
Before submitting a warranty claim, please read the warranty limitations of each brand.
We are proud of the materials and workmanship that goes into each Klean Kanteen and back our products with a Strong-as-Steel™ Guarantee which covers manufacturer's defects. If you think any of your Klean Kanteen products have a manufacturer defect please click the order concern form below and fill out or you may directly email us at shop@certifiedcalm.com. You may be asked to return the product to Klean Kanteen for our quality assurance team so please retain the defective product until the warranty claim is closed. Expect to hear from us within 2-5 business days.
*PLEASE NOTE: If you received a damaged product purchased from other retailers, online or brick and mortar, you will need to return damaged product to their original place of purchase.
Normal wear and tear, including scratches and dents, misuse of product, such as damage from placing bottles in a freezer, are not covered under the Klean Kanteen Strong-as-Steel Guarantee. Lost or stolen items are also not covered under the Strong-as-Steel Guarantee.
Please also read our About Us page make sure you're caring for and cleaning your bottle correctly.
---

Manduka guarantees the Manduka PRO™, PROlite® and PRO Travel yoga mats to last the lifetime of the mat, if used and cared for properly. Since the PRO Squared is a multi-purpose mat, it is not included under the Lifetime Guarantee. The lifetime of the mat is approximately 10 years of regular use when loved and cared for. Should a PRO™ mat wear out past its useful life from regular use under normal conditions, we will replace the product. Maximum one replacement per purchase. Cosmetic wear or damage resulting from improper handling or care, post-purchase modifications, alterations, negligence, and use for a purpose other than for which it was designed, are not covered by the Manduka Guarantee. Also, please keep in mind all warranties and lifetime guarantees are voided if any products are purchased from unauthorized resellers.
Criteria Covered Under the Lifetime Guarantee:
Wear to the top surface of the yoga mat from regular use that impacts its performance.
Pictures below display PRO-mats where regular hand/feet placement of the yogi has caused the surface to wear out beyond the mats useful life.
Example 1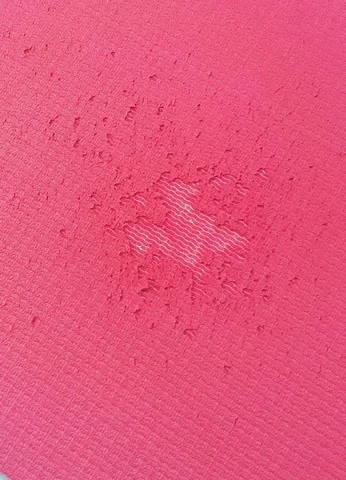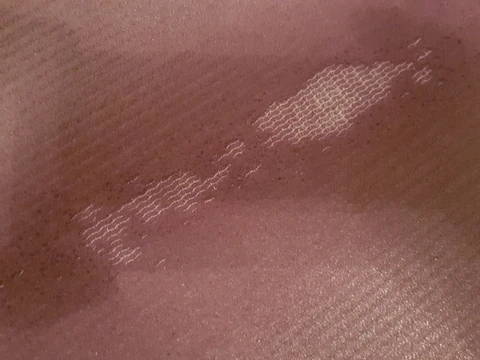 Criteria Not Covered Under the Lifetime Guarantee:
Cosmetic wear to the surface that does not affect the performance of the mat

Uneven color patterns, stains, or discoloration at time of purchase or from use

Creases and folds from improper handling and/or storing. It is best to lay the mat flat or keep it rolled up.

Damage from excessive amounts of water or other liquids i.e. submerging the mat under water

Improper cleaning with anything other than Manduka Mat Wash or water

Damage from a washing machine, vacuum cleaner, etc.

Damage from use other than yoga or similar fitness activities

Damage from outside elements or factors

Slipping on the mat

Bad odor due to usage and lack of cleaning

Mats purchased before September 1, 2008

Mats marked as "Irregular" at time of purchase

The PRO Squared is not covered by the Lifetime Guarantee

Almost Perfect PRO Series mats are not covered by the Lifetime Guarantee

MATS USED BY STUDIOS FOR IN-STUDIO EQUIPMENT USE ARE NOT COVERED BY THE LIFETIME GUARANTEE.
Pictures below display PRO-mats with minor signs of wear which does not affect the performance of the mat and which is not covered by the Lifetime Guarantee. These mats have many years still left in them. When they resemble the above pictures they will covered by the Lifetime Guarantee.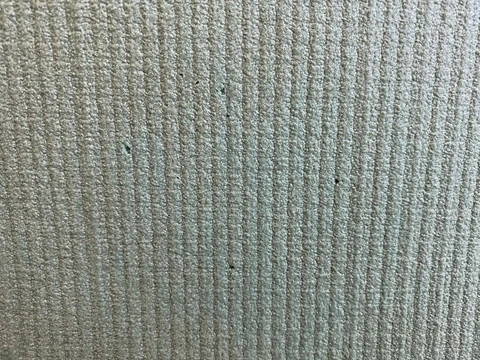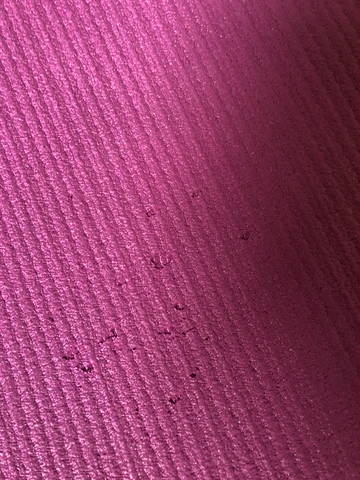 If you would like to request a replacement mat, please contact through our oder concern form below or email us at shop@certifiedcalm.com and include your receipt or proof of purchase and an image of your mat. Proof of purchase is required for all Lifetime Guarantee replacements. Manduka will review the submission, determine if the PRO™ Series mat falls under our Lifetime Guarantee criteria, and provide further instruction. You will receive a response to your inquiry within two business days. The cost of shipping is not covered by Manduka. Maximum one replacement per purchase.
For more information on returns and exchanges unrelated to the PRO™ Series warranty, please visit our FAQ page.
Filing warranty claims can be done through this site but assessment and necessary actions such as replacement is only available in stores. Please fill up the warranty form and our customer service will reach out to assist you on the next steps: