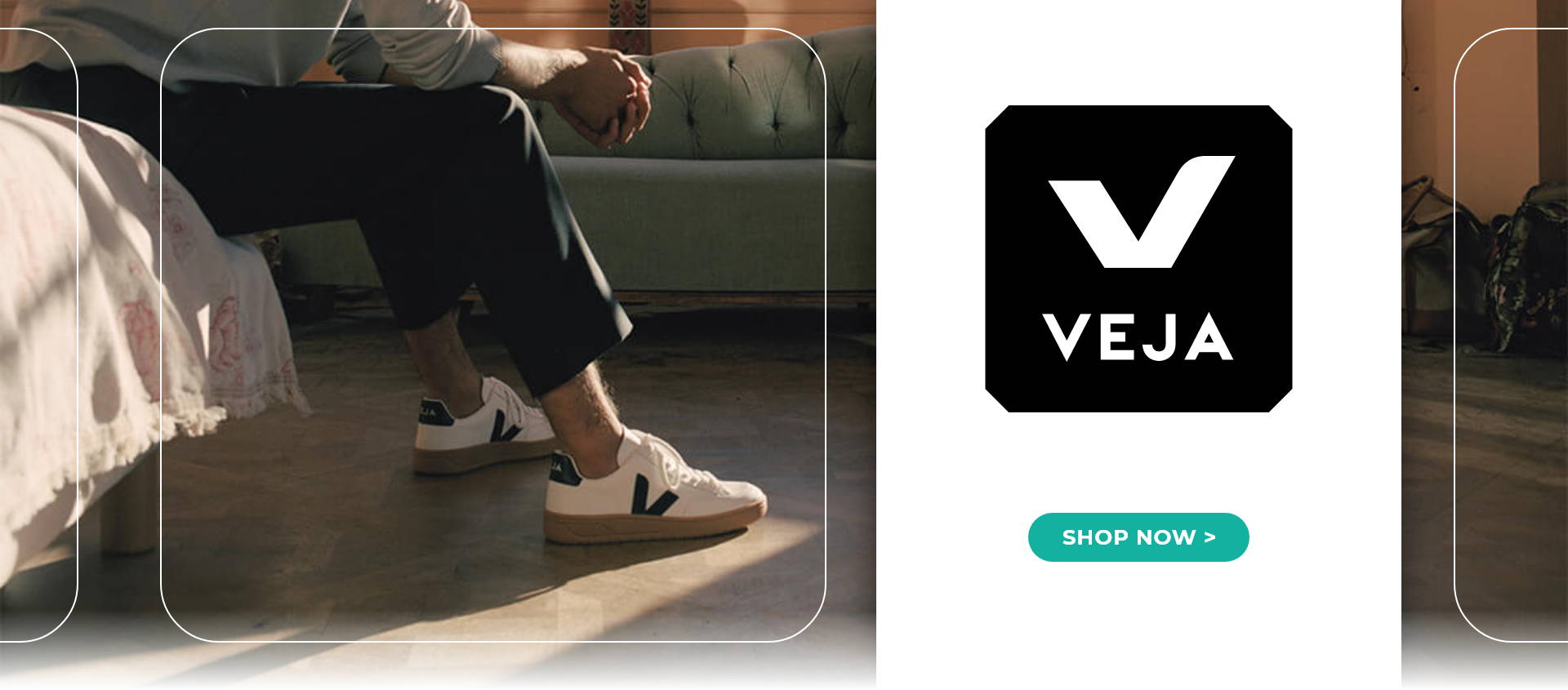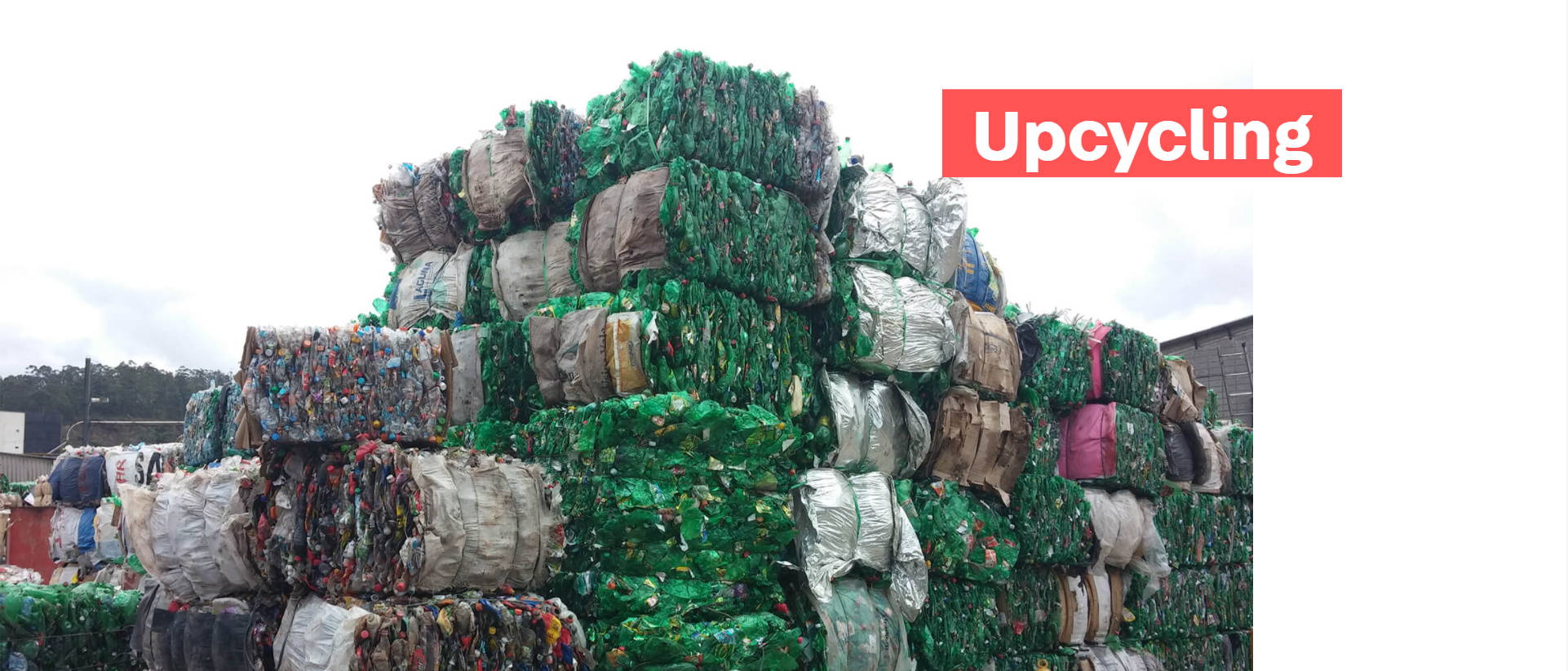 Upcycling consists in recycling materials or products that have fallen out of use in order to turn them into higher quality or more useful products.

Plastic bottles, cotton recycled from textile industry cuttings, recycled polyester: our recycled materials give household waste a second life, and allow us to create a range of fabrics according to season and use.
B-Mesh: From recycled plastic bottles to innovative sneaker
B-Mesh launch video
© Ludovic Zuili and Simon BuissonText
VEJA is the first sneaker brand to use fabric entirely made from recycled plastic bottles: B-mesh.
B-mesh is a fabric made entirely out of recycled polyester
(polyethylene terephthalate or PET).

It's light, breathable and waterproof.

It's made in Santo André, in Brazil, from plastic bottles that are collected, sorted, then transformed into plastic flakes. These flakes are turned into polyester fiber through extrusion. On average, 3 plastic bottles are needed to make a pair of VEJA.Text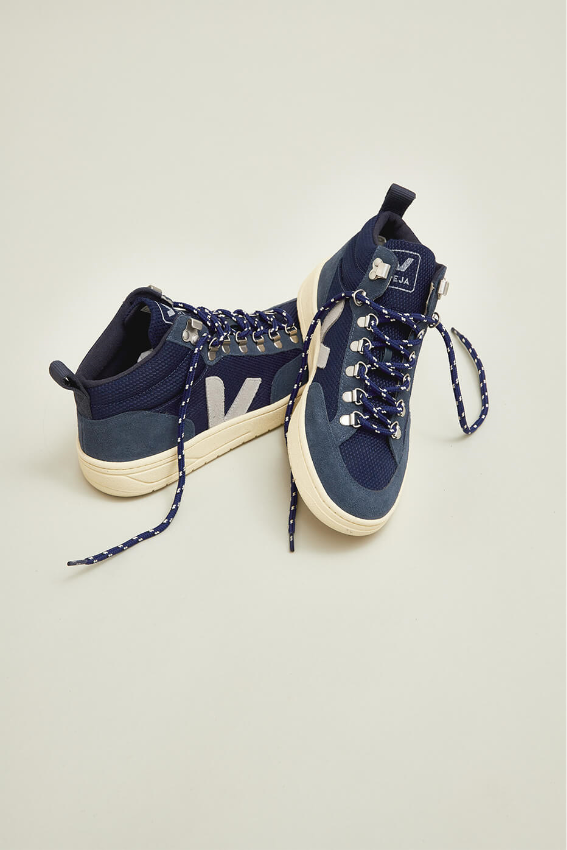 Roraima B-Mesh Nautico Oxford-Gray Butter-Sole
© Studio VEJAText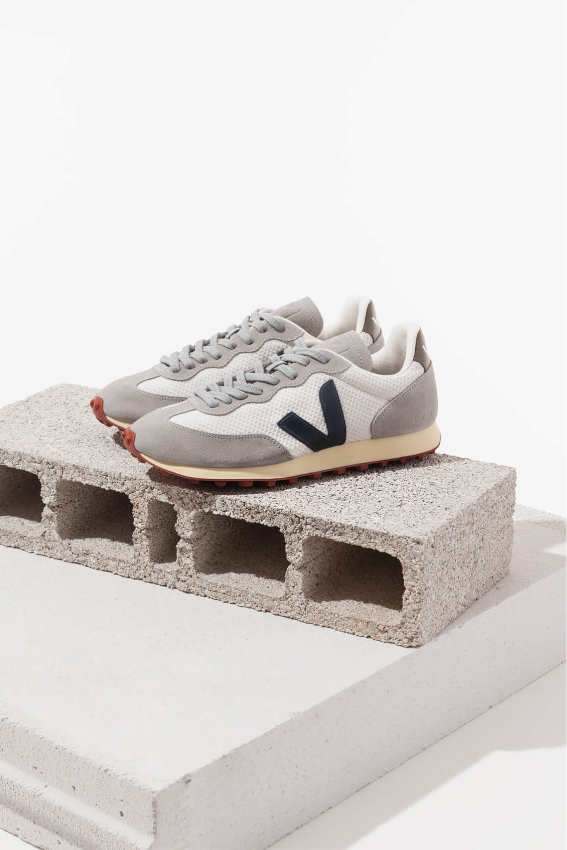 The Hexamesh is a mesh combination of two threads layered together. The resistant base is made of recycled plastic bottles and the top layer of knit is a hexagonal pattern made of organic cotton.
It is composed of 70% organic cotton and 30% recycled plastic bottles and is made in Brazil.
Rio Branco Hexamesh Gravel - Abstinthe
© Studio VEJAText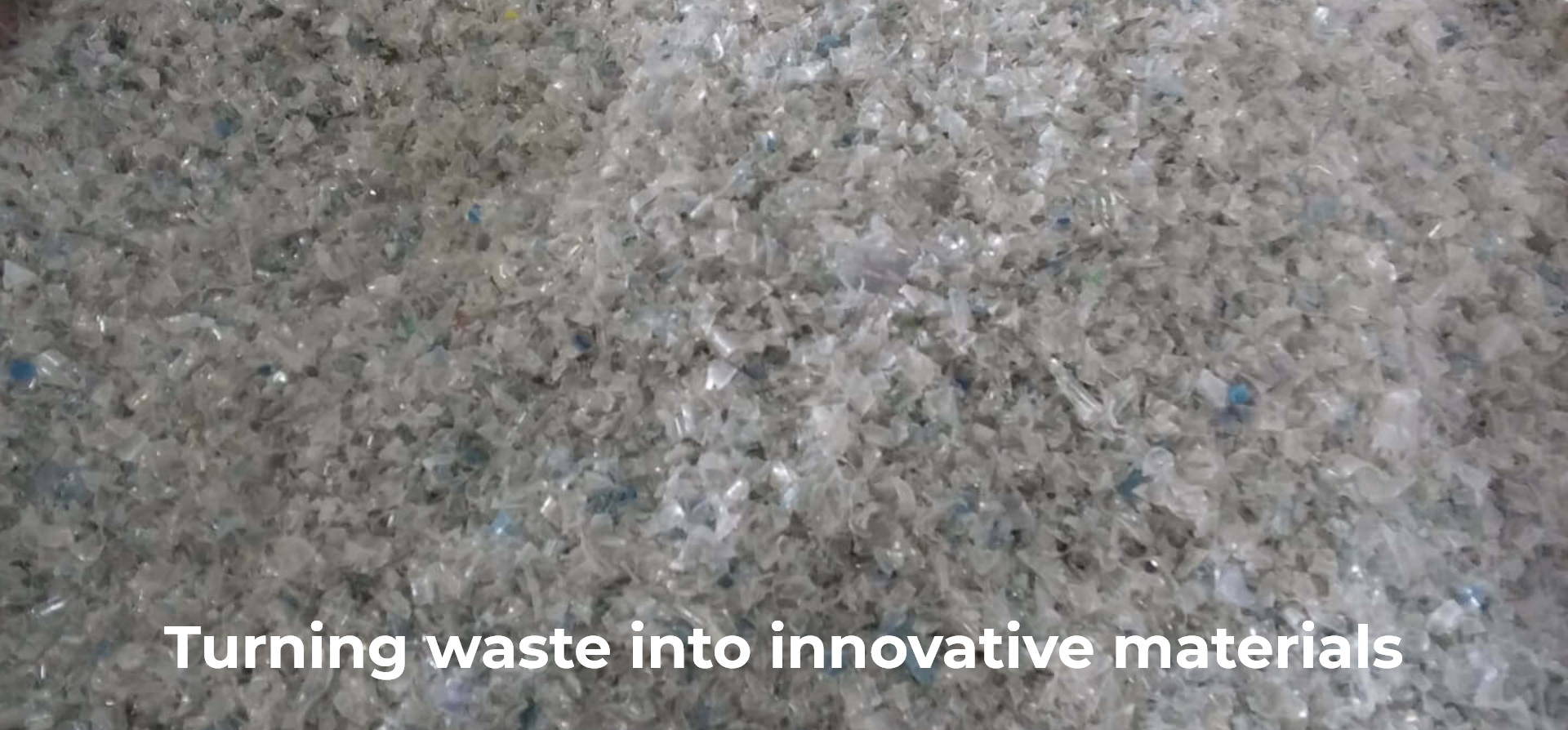 Several types of recycled and transformed materials are used in our sneakers.
J-Mesh is created using a blend of jute, recycled cotton and recycled PET. Burlap, a traditional Brazilian material, gives it anti-static and thermoregulation properties.
V-10 Suede Multico Natural Pink-Fluo
© Studio VEJA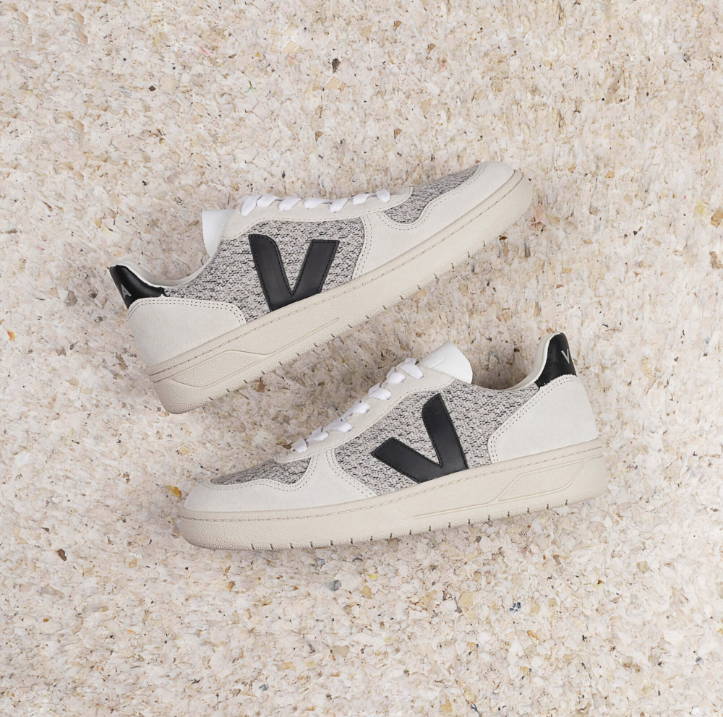 V-10 Flannel Snow Black
The flannel we use is 100% recycled.
It's made with both recycled cotton and recycled polyester (PET).
© Studio VEJA
We also use recycled cotton in several of our sneakers. Recycled polyester, in jersey form, is used to make sneaker linings in many of our styles.
A leather alternative:the corn upcycling
A lot of people speak about the vegan trend, a trend of leather substitutes. Unfortunately, plastic is a 99% petroleum-based material and it is often overused as a leather alternative. We follow an ecological purpose so replacing it by polymer materials has never been an option.
After 5 years of R&D, we found the CWL, a vegan and bio-sourced material offering an alternative to leather for both smoothness and ecological commitment.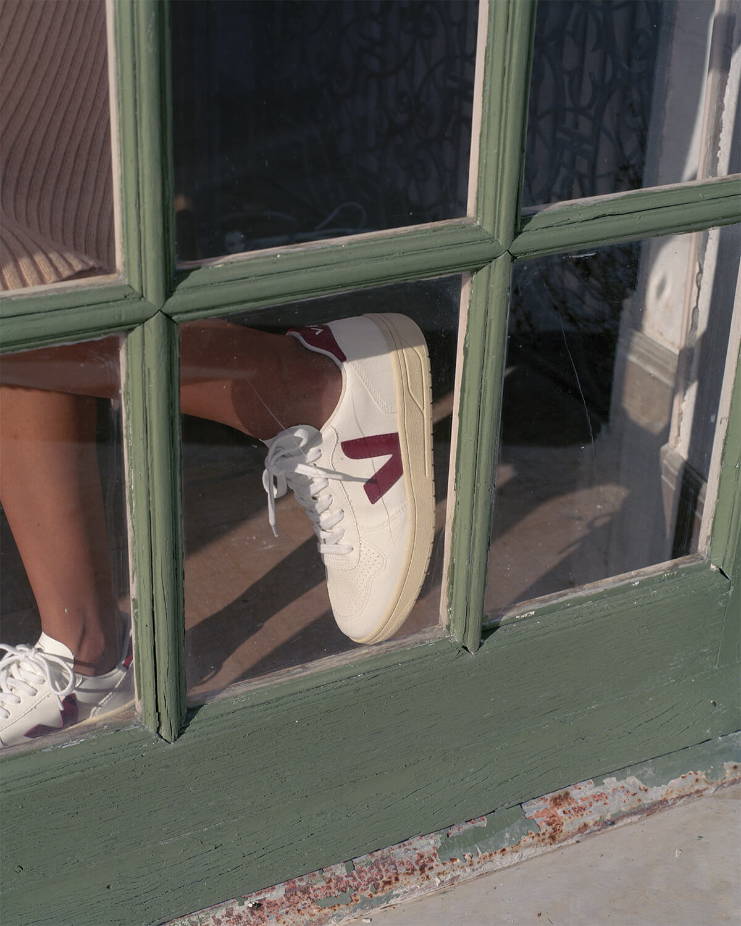 V-10 CWL - White Marsala Butter-Sole
© Studio VEJA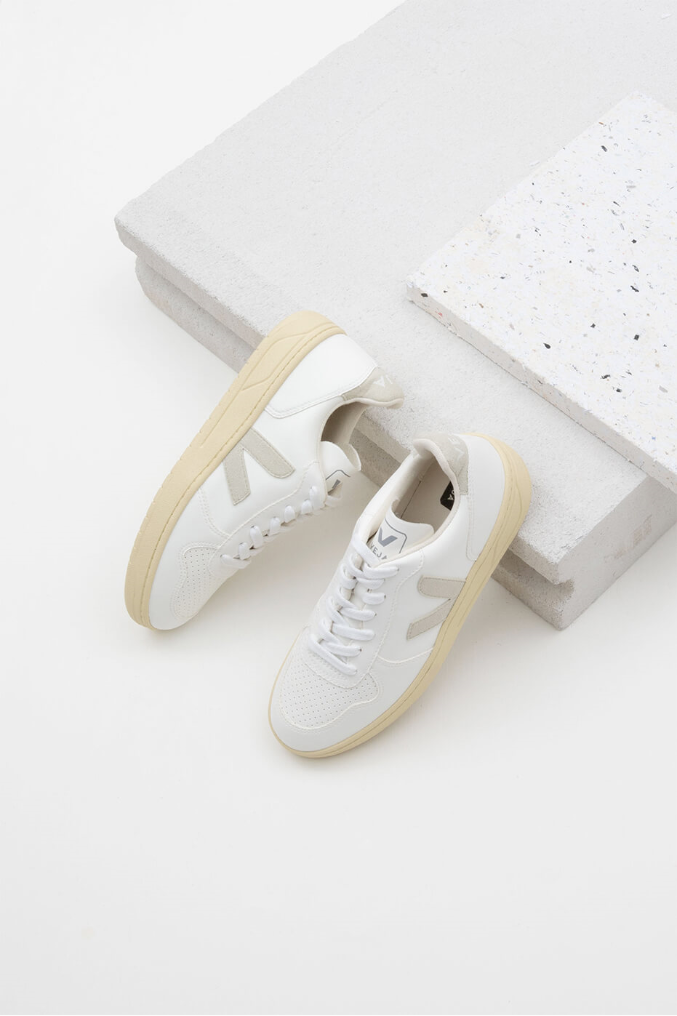 V-10 CWL - White Natural Butter-Sole
© Studio VEJA
The CWL is a vegan alternative to leather made from cotton fabric covered by a corn-based coating. It is 63% bio-based and made in Italy.
This material opens a new exciting path for VEJA: to go beyond leather.